Lets Sing Queen Byte Size Review (Xbox One X)
Freddie Mercury, Brian May, Roger Taylor, and John Deacon. Legends! Queen. Best. Band. Ever! I have always loved Queen. In some ways it is the soundtrack to my youth. In my younger days I really enjoyed playing all the Lets Sing, Guitar Hero, and Rockband games. I was never really any good at them but with a few mates and a few more beers, many a good time was had. Now with the experience that comes with age I realise how absolutely terrible I am at singing. Will that knowledge stop me playing Lets Sing Queen? Well, yes, it probably will.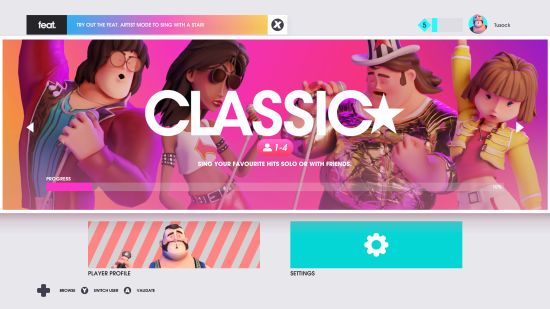 Play The Game.
The layout and options put in front of you are as you have seen in every game of this ilk. With Classic Mode, Feat. Mode (Co-op), World Contest (MP), Mix-Tape 2.0 (Random Songs), and Let's Party, which just randomly chooses modes and songs. For song availability in most modes you first have to unlock them in Classic Mode, so be warned if you first want to play this with friends. There is also Jukebox Mode, my favorite. Unlock the songs for Jukebox Mode and just enjoy the music as it was meant, sung by Freddie.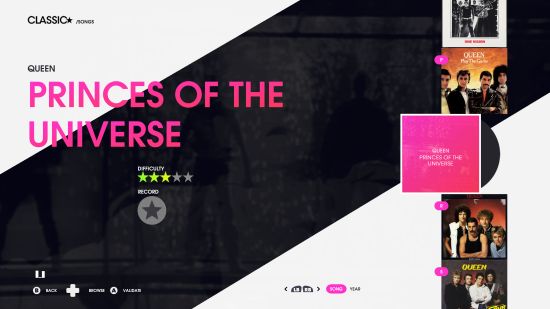 I Want It All.
There are thirty all time classic Queen tracks for you to work through. From belters like We Will Rock You and Radio Ga Ga, to favorites like I Want To Break Free and Bohemian Rhapsody. As well as some of my most loved tracks Headlong, Princes Of The Universe, and A Kind Of Magic. Sadly we are missing Hammer To Fall. All songs are accompanied by their official video playing in the background. Another reason Jukebox Mode is my favorite. Unfortunately they aren't always the best quality. Bit of a shame they didn't source HD clips, especially since we are playing them on HD/4K consoles.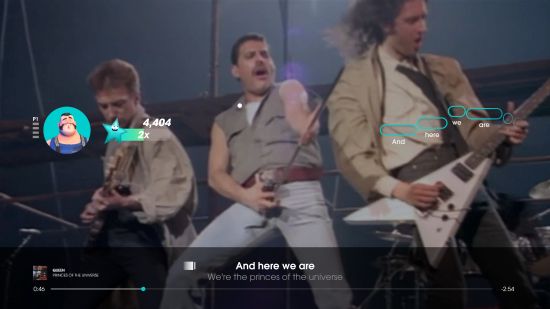 Save Me.
The cheap USB microphone I purchased worked ok but the lack of in game adjustments meant I was only being picked up at a very low level. As for the ability to use your mobile phone as a mic, well my phone wasn't even registering a sound. Having the ability to increase microphone sensitivity and lower the voice over volume are two settings I would love, no, expect to see in a singing game. The in game interface is very invasive too. Moving your score and avatar to the top left would be a start and reducing the screen real estate taken up at the bottom would make it a much nice spectator game.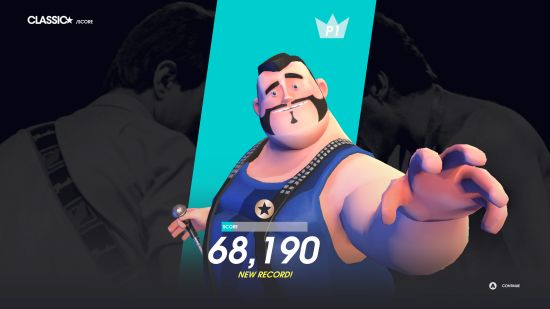 Closing Comments.
I went into Lets Sing Queen being lead by my undying passion for the music of Queen. Forgetting that I am now a balding middle aged man who can sing at all. And for some one like that to take on the power, range, and undeniable talent  of Freddie Mercury is just plain dumb. I did have some fun, even if the rest of the family within earshot didn't. I'll stick to music games like NSR, so I don't upset the family. But enough, you know what you are in for when you get a karaoke game. So here is the entire song list to finish off.
A Kind of Magic
Another One Bites The Dust
Bicycle Race
Bohemian Rhapsody
Breakthru
Crazy Little Thing Called Love
Don't Stop Me Now
Fat Bottomed Girls
Good Old Fashioned Lover Boy
Headlong
I Want It All
I Want To Break Free
Innuendo
It's A Hard Life
Killer Queen
Now I'm Here
One Vision
Play The Game
Princes Of The Universe
Radio Gaga
Save Me
Somebody To Love
The Invisible Man
The Show Must Go On
Tie Your Mother Down
Under Pressure
We Are The Champions
We Will Rock You
Who Wants To Live Forever
You're My Best Friend