BrickResales is Brisbane's best kept LEGO secret.
After running their business as a successful pop-up for many years Judy and Greg took the plunge late 2020 into a bricks and mortar showroom. You could say they haven't looked back. Over recent years LEGO has been back on another resurgence. Especially in the hands of some during COVID lockdowns and undoubtedly on the coattails of LEGO Masters success.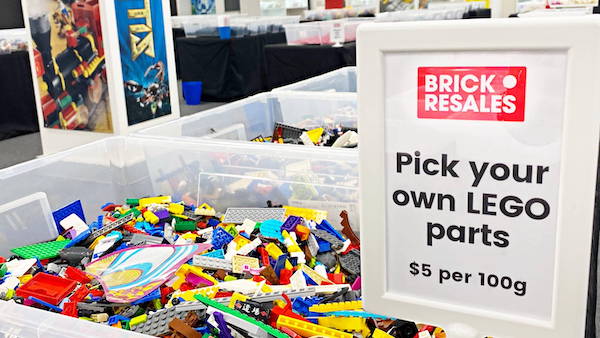 We're no strangers to LEGO down at The Cottage. I'm still in love with my overpriced Aston Martin, Bonsai and the tidy Creator City I'm building with my second son. This may well be the year that we build a UCS Millennium Falcon on a live stream… One of the issues every LEGO builder has is the lack of bricks, or rather certain bricks. There is pleasure in rattling round your own LEGO barrels and finding the piece you want, and that's where Brick Resales has come up with the winning formula.
You get to search around other peoples LEGO and find the bricks you want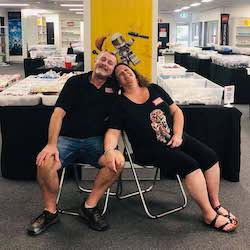 The business has an inordinate amount of second hand LEGO on offer, which you trawl through (happily) and fill (easily) some handy bags to buy said lego by weight. And that's not all. The Team have put together some nice selections of brick types, in shapes and colours. Along with bags of accessories, foliage, robot parts, wheels, well, you get the picture. Check out their website, facebook page and Instagram for more.
Personally, I can be left quite happily in the huge trays of mini figures. Where the not-so-collectable editions are available at a reasonable '3 for $10' combo.
It's not just about the Bricks though
A lot of the success of BrickResales is built on the community following the owners have established. Having a loyal following where regulars treat a visit to the store as a social trip just adds to the positive vibe. There are hobbies and pastimes that offer up a group of like minded people to share it with , LEGO is exactly one of those. There is no snobbery or superiority in play, just LEGO lovers doing their thing. Today I shared a laugh with a stranger over the minifigure he found with a pretty distinct Pornstar 'stache.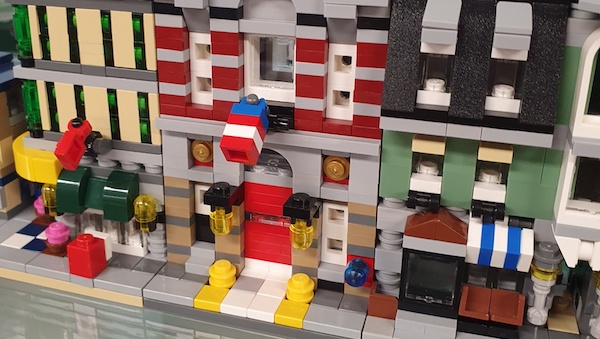 It's also worth mentioning the online sales support they still maintain, the original business model still holds up. A quick check of the BrickResales website will turn up a few hard to find figures or bricks, which you can happily order to arrive at your door. Digging deeper there's a great option for any enthusiast, the Monthly Master Builders Club. Set up a monthly $35 debit and receive a healthy bag of assorted brick along with 3 figures every month. Not bad for the price of a few coffees.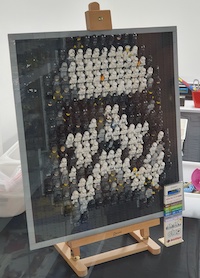 What about the real LEGO Masters?
The owners Judy and Greg are happy to share their LEGO passion and around the showroom the walls are decorated with some excellent pieces. Familiar sets, models and some inspirational takes on various themes. You want a multicoloured R2D2, then this is the place to see it. Micro versions of the City Creator series? Check. An incredible piece of Star Wars art, made from Stormtrooper minifigures? You really have to see this in the plastic.
As for actual LEGO Masters, there are a few familiar faces on the website. If you're lucky you can bump into some contestants past and present that are regular visitors. You might even see one of them working on a masterpiece in one of the break out rooms along the walls.
BrickResales should be somewhere every LEGO lover knows about, but for now it's still Brisbane's best kept LEGO secret.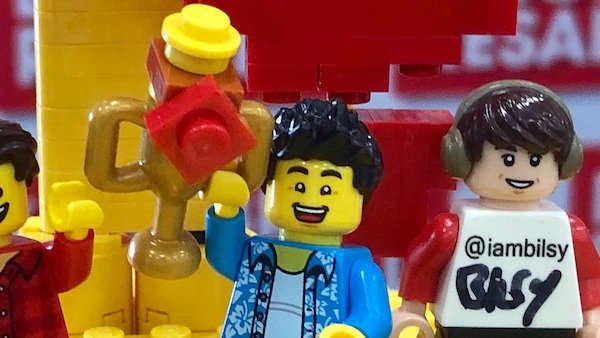 Hours: Thursday to Monday, 8am to 3pm