Norton 360 for Gamers, you say? In this day and age, anti-virus is a vital necessity when it comes to online protection from data and identity thieves.
I've had warnings in the past of accounts being potentially compromised but they never seemed to come to anything. At least I don't think they did. But I've always used some form of anti-virus, both free and subscription (Kaspersky, AVG, Avast, even Windows Defender), and it's certainly true that you get what you pay for.
Norton is one of the industry's big players and I've been a fan of the company's anti-virus solutions for a few years, offering a pretty consistent product that provides solid online protection combined with an easy-to-use interface.
What's under the name?
Norton's 360 for Gamers is the company's latest anti-virus offering aimed squarely at, well, video gamers, and on the surface has little visually to distinguish it from Norton's 360 Deluxe anti-virus software. They look virtually the same in terms of user interface, offering the same comprehensive suite of security features to help keep you safe online: A Virtual Private Network to hide your geographic location when you're watching the US version of a popular streaming service, a password manager to keep all those handy passwords in one place, parental control, 50Gb of cloud-based storage and real-time protection.
The interface is as slick and user friendly as Norton's standard edition and far more manageable than some of the anti-virus software I've used in the past. It also doesn't seem to impact on my PC's performance, too, quietly working in the background. You can also manage whether you get notified when the program is doing background tasks like system scans or live updates. It's not granular management, though: You can only turn the notifications on or off through the program's settings.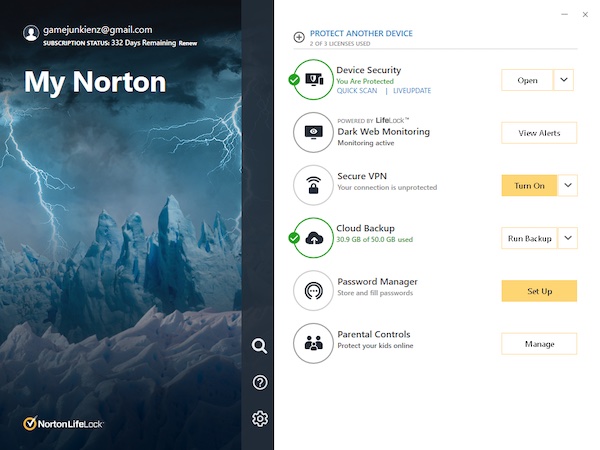 It'll never happen to me…
Where Norton 360 for Gamers differs from its standard brethren is that it offers protection against the evil dark web using Norton's LifeLock technology. Which lets you monitor for identity theft, most commonly credit card and personal information. The gamer version, though, lets you probe a little deeper, allowing you to check whether your gamer tags and online usernames have been compromised in data breaches or identity theft.
Lifelock searches the internet to see whether any of those details appear in places they shouldn't and then alerts you to it. I had no alerts during the time I've been using the product but that's probably more than likely because I'm the most uninteresting person I know and not worth compromising.
What's it going to cost?
At the time of writing, both the deluxe edition Norton 360 (for three devices) and Norton 360 for Gamers will set you back $104 a year so ultimately the decision on whether to get one over the other is whether the gamer-specific features like dark web monitoring of your gamertags and profiles will be of value to you. Personally, as a gamer it is comforting to know that your gamer tag and username hasn't been compromised in one of the many online attacks that occurs so frequently these days forcing you to come up with a new user name/gamer tag that will require a capital letter, a number, a mathematical symbol, a sign of the zodiac and a photo of a cat smiling at a camera to ensure it's safe.
Anti-virus is a necessary evil these days so for gamers wanting to ensure their online accounts and their gaming profiles remain staff, Norton 360 for Gamers offers an additional layer of protection for those of us wanting to know that our much-treasured online profiles are safe and secure.