Ratchet & Clank Rift Apart PC
Ratchet & Clank are one of PlayStation's most endearing duos, first appearing on the PlayStation 2 in 2002 from developer Insomniac Games.
The pair were a resounding success on Sony's games console, and over the years appeared in such classics as Tools of Destruction, Going Commando and Up Your Arsenal.
Ratchet & Clank's most recent outing was Rift Apart on the PlayStation 5, perhaps one of the current generation console's best games yet (at least in my humble opinion). Rift Apart was originally touted as a PS5 exclusive but, two years on from launch, it has now arrived on PC.
As far as PC ports go, Rift Apart PC is a pretty good one, at least to my middle-aged gamer eyes. It's a visually stunning game, with bright, vivid colours right off the bat, as Ratchet & Clank visit a variety of planets in their quest to restore a rift-jumping device known as the Dimensionator and stop the evil Dr Nefarious.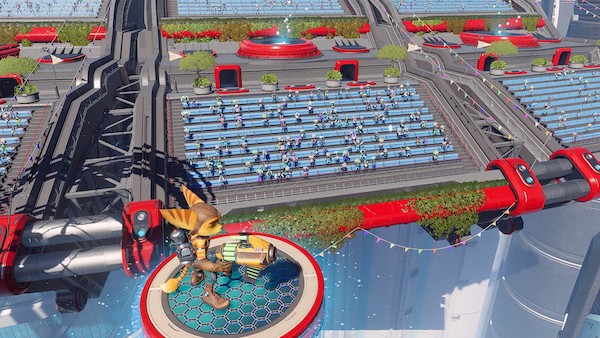 Rift Apart PC technical specs ahead.
Rift Apart's minimum specs (very low graphical settings, 720p, 30FPS) is an Intel Core i3-8100 or AMD Ryzen 3 3100 CPU, nVidia Geforce GTX960 or AMD Radeon RX470 (4Gb) GPU and 8Gb of RAM. Recommended settings (1080p, 60FPS) are an Intel Core i5-8400 or AMD Ryzen 5 3600 CPU, nVidia Geforce GTX2060 or AMD Radeon 5700 GPU and 16Gb of RAM.
My PC is no dinosaur but it's not cutting-edge by any stretch of the imagination with an Intel Core i5 10660K CPU @ 4.10Ghz (mounted to an Asus TUF Gaming z490-plus motherboard), paired with 16Gb of PNY RAM and a Sapphire AMD RX580 8Gb graphics card. I seemed to be in PC no-man's land, sitting well above the minimum but well below the recommended.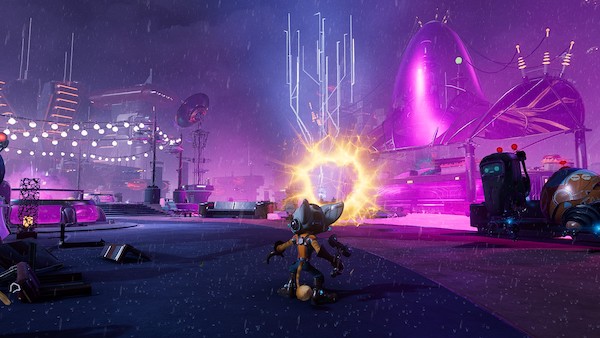 At the time of launch, much was made of the PlayStation 5's super-fast SSD, which supposedly made travelling through the game's inter-dimensional rifts possible. With that in mind, I decided to install Rift Apart onto my SSD rather than the mechanical hard drive where I have all my other games installed. It seemed to be a wise decision.
I also decided to throw caution to the wind by selecting the "medium" graphical preset, apart from shadow quality which I put to low and screen space reflections were at high. I selected 2 x anisotropic filtering, SSAO ambient occlusion and used AMD's FSR 2.1 upscaler.
To SSD or not SSD, that is the question.
Now, I'm no Digital Foundry (those guys are great, BTW) but using AMD's built-in frame rate counter I was averaging mostly high 50s to 60 frames per second on the medium preset with my AMD Radeon RX580 8 Gb GPU, and the game looked bloody gorgeous.
Obviously, the medium preset means things there will be like fewer spectators crowding the grandstands in the introductory level and less particle effects, but I'd be lying if I wasn't constantly pausing the game, activating Photo Mode and just taking snap shots of what I was seeing, especially when the game reached the Scarstu debris field. It was just spectacularly gorgeous.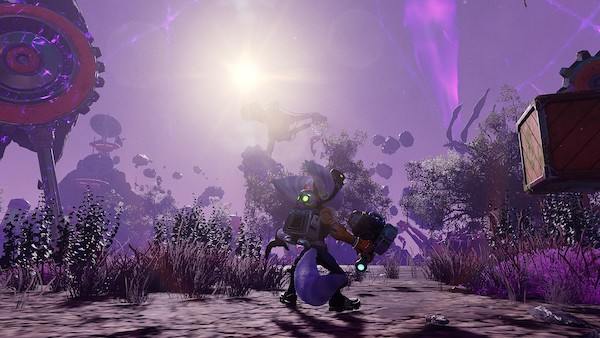 I do think it was worthwhile installing the game to the SSD and not the HDD, as there was the occasional hitch during the game's opening cut scenes when Ratchet is sent through the inter-dimensional rifts. I think a mechanical HDD would struggle.
In 14 hours of play I only experienced one game-breaking bug where I thought I had cleared an area of enemies, but the game still thought one enemy was left (I could hear its voice every time I teleported to a particular spot), preventing me from completing the mission. I had to die to restart the checkpoint, which was super frustrating as it was one of those "hold off the enemies while I unlock this force field" missions.
In summary, Rift Apart PC has done a decent job.
I've read of a few people having issues with the game and that it should have been held off launching for a bit longer but from my, granted untechnical trained eyes, Rift Apart PC is a great port of a PlayStation title and is far and away a better effort than the two previous PlayStation 5 games to come to PC. The Last of Us Part One (which was in a shocking state) and The Uncharted Collection.